Events
At HealthMasters Hand & Physical Therapy enters, we are committed to continuing education and deepening the knowledge. This month we had the opportunity to learn more about Gray Institute's (3D Movement Analysis & Performance System)which is the most innovative way to effectively analyze and enhance the entire body in an efficient, revealing, and evidence-based manner. This certification equips our therapists, the movement professional, with the content, competence, and confidence to meet the needs, wants, and goals of all of our patients and clients. Unlike any other movement screen, 3DMAPS is a movement analysis and performance system that applies to the three-dimensionality and abilities of all individuals and all of human function. 3DMAPS boils down all of human movement (the three-dimensional interaction of joints, muscles, and proprioceptors) into 6 Vital Transformational Zones, adapts these movements within Mobility Analysis Movements (assessing range of motion) and Stability Analysis Movements (assessing control of motion), and empowers our professionals to then prioritize the best and most logical progressions in serving our patients better.
---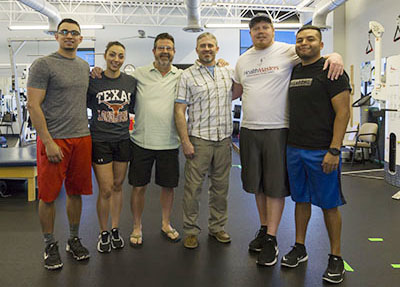 We would like to welcome and introduce the newest members of HealthMasters Hand & Physical Therapy Centers.
Justin Valdez PT,DPT; Jeremy Cole PT, DPT and Adam Vargas PT, DPT.
Last Saturday 25th and Sunday the 26th our physical therapists went through Training Level I to be certified to perform Functional DRY NEEDLING on our patients.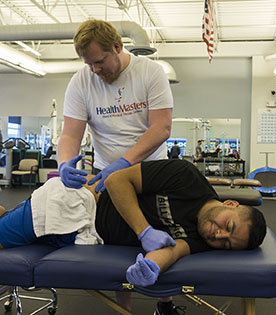 What is Dry Needling?
Dry needling is also known as intramuscular stimulation (IMS) and Trigger point dry needling (TDN). It is a safe, effective and efficient treatment for:
Relaxing myofascial trigger points, and
Restoring normal muscle tone, muscle length, coordination, function and strength.
Dry needling releases that tension, which results in lasting muscle relaxation due to the release of shortened bands of muscle fibers for overactive (tight) muscles or the activation of under-active (weak) muscles. Deactivation of trigger points can bring immediate relief of symptoms, so the therapist can immediately train the muscles to work with the newly regained range of motion.
People with overuse injuries, work injuries, auto accident injuries, sports injuries or other chronic pain conditions who have good results with massage but are disappointed when the discomfort returns may find dry needling a great way to get more long lasting pain relief.
If you suffer from head and neck pain, shoulder pain, hand or wrist pain, knee pain, post-surgical pain, pain resulting from a motor vehicle accident, work injury or other chronic pain conditions, please give us a call!
Northeast
915-755-0738

East
915-593-4985

West Side
915-313-6331